5th Annual International Conference on the Blues ● September 30 - October 2, 2018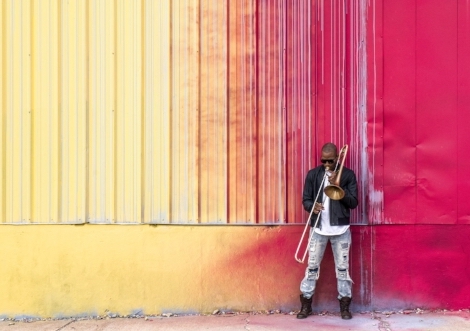 Trombone Shorty & Orleans Avenue blend rock riffs and horn blasts with the groove of a New Orleans street parade. In the last five years, the seven-piece band has backed Macklemore and Madonna at the Grammys; opened for Foo Fighters, Daryl Hall & John Oates and Red Hot Chili Peppers; inherited the annual closing set at the New Orleans Jazz & Heritage Fest in the tradition of Crescent City greats The Neville Brothers; and anchored the live-to-air halftime of the 2014 NBA All-Star Game performing a medley of their own songs blended with hits sung by Dr. John, Gary Clark, Jr., Janelle Monae and Earth Wind & Fire. Part Jimi Hendrix, part James Brown and all New Orleans, bandleader Trombone Shorty was raised in one of the City's most musical families, and got his stage name when he picked up his instrument at age four. He joined Lenny Kravitz's band straight out of high school and toured the world, performing for stadium and arena sized crowds. "Trombone Shorty takes in a century-plus worth of sounds," wrote New York magazine, "ragtime and jazz and gospel and soul and R&B and hip-hop—and attacks everything he plays with festive fervor." Buy tickets
Charles Reagan Wilson was the Kelly Gene Cook Sr. Chair of History and Professor (Emeritus) of Southern Studies at the University of Mississippi, where he taught from 1981-2014. He worked extensively with graduate students and served as Director of the Southern Studies academic program from 1991 to 1998, and Director of the Center for the Study of Southern Culture from 1998-2007. Wilson received bachelor's and master's degrees from the University of Texas at El Paso and earned his PhD in history from the University of Texas at Austin. He taught at the University of Wurzburg, Germany, the University of Texas at El Paso, and Texas Tech University before coming to Oxford. Wilson is the author of Baptized in Blood: The Religion of the Lost Cause, 1865-1920 (1980), a study of the memory of the Confederacy in the post-Civil War South, Judgment and Grace in Dixie: Southern Faiths from Faulkner to Elvis (1995), which studies popular religion as a part of the culture of the modern South, and Flashes of Southern Spirit: Meanings of the Spirit in the U. S. South (2011). He is also coeditor (with Bill Ferris) of the Encyclopedia of Southern Culture (1989), which received the Dartmouth Prize from the American Library Association as best reference book of the year and is also general editor of the 24-volume New Encyclopedia of Southern Culture (2006-2013). He is editor or coeditor of Religion and the American Civil War (1998), The New Regionalism (1996), and Religion in the South (1985).
Bruce "Sunpie" Barnes was born and raised in Gravel Hill, Arkansas, and moved to Louisiana in 1987 to work in the Jean Lafitte National Park's Barataria Preserve. Since 1999, he has been an interpretive park ranger and archivist for the New Orleans Jazz National Historical Park. Combining a love of blues, zydeco, and West African music, he founded Sunpie and the Louisiana Sunspots in 1991 to create music inspired by Afro-Louisiana and his travels playing music around the world. In 2010, after participating in the culture of music and parading in New Orleans for many years, he began working on documentary photography projects. He is currently working on an album that is a culmination of the past two decades of his musical journey, as well as a book on music education with traditional jazz musicians in New Orleans, in partnership with the Neighborhood Story Project.
DAVID BALLEW is an Associate Professor of History at Chowan University in North Carolina. He received his Ph.D. in History and Southern Studies from the University of Mississippi in 2000.
SCOTT BARRETTA has taught Sociology of the Blues for the DSU Blues Studies Program and is an instructor of sociology at the University of Mississippi. He is a writer and researcher for the Mississippi Blues Trail; the host of the Highway 61 radio program on MPB; and former editor of Living Blues.
VERNELL BENNETT is a native of Lorain, Ohio. She is currently serving as the Vice President for Student Affairs at Delta State University. Dr. Bennett is a trained vocalist, orator, former associate professor and college administrator. Her most cherished role is that of student advocate.
VICTOR BOUVÉRON received a Master's degree in Folklore from UNC-Chapel Hill (2017) & in Communications from the University of Lille, France (2009). Bouvéron explores African American culture and tradition in the American South. He produced a weekly blues radio show in France for over ten years.
MICHAEL BOWMAN is an Associate Professor of Media at Arkansas State University. Bowman has produced documentaries that appeared at several film festivals. He received his doctorate in Heritage Studies at Arkansas State. His research interests include popular culture and media history.
Singer-songwriter DESTINY BRADLEY is a native of Cleveland, Mississippi. Destiny graduated from East Side High School and holds a BA in Mass Communications from Mississippi Valley State University. She grew up singing RnB, Gospel, Blues, and Soul.
TRAVIS CALVIN is an Instructor at the Delta Music Institute at DSU. He earned an Associate of Arts degree at Coahoma Community College and graduated from DSU with a BAS in Music Industry Studies. He previously worked as a music teacher at the Delta Blues Museum music teacher from 2006-2013.
The COAHOMA COMMUNITY COLLEGE CONCERT CHOIR serves as an ambassador for Coahoma Community College within surrounding communities and the religious sector. The choir's repertoire includes classical and rousing concert spirituals along with contemporary and traditional gospel. Recent choir highlights include performing at the 2016 Congressional Black Caucus Foundation Gospel Extravaganza in Washington, DC, and being featured in the upcoming Pulse Films documentary with the choir's arrangement of "A Change is Gonna Come." The choir is conducted by Kelvin K. Towers, Director of Choral Activities.
AMELIA COOPER is the granddaughter of blues icon Muddy Waters. Amelia lived with Muddy and is usually the spokesperson for the Morganfield family. She is a wealth of stories about Muddy life up until his death in 1983. She lives in Mississippi, where she is retired.
BEN DUPRIEST is a PhD Candidate in Ethnomusicology at the University of Pennsylvania. His dissertation addresses the celebration of the blues as cultural heritage in the state of Mississippi.
MELODY L. FORTUNE completed her Ph.D. from Mississippi State University. She is the Assistant Professor in Healthcare Administration at Delta State University. In 2018, she was selected as a Zhi-Xing Academic Impact Fellow. She has authored and co-authored publications in health journals.
J. TYLER FRITTS is an Adjunct Instructor at Rhodes College. His work focuses broadly on African American traditional and popular music of the American South. He holds a PhD in Musicology/Southern Regional Studies, where he studied under the direction of Dr. David Evans.
VINCENT GRANATA is a 3rd year PhD Student in Philosophy and Musicology at the Université de Lorraine. His research, on "The Expressive Specificity of the Blues," uses an interdisciplinary approach to show how the use of emotional descriptions is relevant for the understanding of this music.
KEITH JOHNSON, a great-nephew of Muddy Waters, is a recent winner of the Vicksburg Blues Society's International Blues Challenge. He received a BA degree in Entertainment Industry Studies from DSU and is now enrolled in the MBA-Human Resources program.
BRIDGETT MORGANFIELD JONES is the niece of Muddy Waters. She earned a MSED and a BS in business from Alcorn State University. Bridget is the author and publisher of the Morganfield Family Legacy book. She is now retired and lives in Arlington, Texas.
NILS KIRSCHLAGER works as a research assistant in the study course "Popular Music and Media" at the University of Paderborn, Germany. His Bachelor's and Master's thesis both concentrated on the analysis of Delta Blues, and his PhD thesis now focuses on German country music.
CHRISTIAN LEUS is a recent graduate of Hendrix College in Conway, Arkansas. Her research interests include Southern public history and documentary. Her thesis explored issues of digital representation in the Alan Lomax Archive. She is currently on staff at the Hot Springs Documentary Film Festival.
JORGE ARÉVALO MATEUS is Executive Director of the Association for Cultural Equity/Alan Lomax Archives. An ethnomusicologist, archivist, and musician, he holds a PhD from Wesleyan University and teaches at Hunter College, The New School, and Borough of Manhattan CC (CUNY) and Marymount Manhattan College.
JOSEPH "MOJO" MORGANFIELD is the youngest son of Muddy Waters. Joseph was born in Illinois and studied at the University of Northern Iowa. Joseph is a Use Chicago Style-based singer and songwriter. He is also an ambassador, supporter, and promoter inductee with the Chicago Blues Hall of Fame.
GEORGE MUMFORD has just completed a 2018 tour throughout France, Germany, and Switzerland. He recently recorded drums on Keith Johnson's new album, "Come to Mississippi." He works as a carpenter and a freelance drummer and producer.
CHARLES GOWER PRICE received his Ph.D. from Stanford University. He is professor emeritus at West Chester University at Pennsylvania. His articles have appeared in American Music, Early Music, Journal of American Culture, and in book essay collections.
HERBERT QUELLE is Consul General of the Federal Republic of Germany for the Midwest, based in Chicago. After military service and university, he joined the Federal Foreign Office, then still in Bonn, in 1980. His postings abroad have included Los Angeles, Pretoria, Havana, Warsaw, London, Baku, and Boston. In Baku he served as Ambassador. His attachment to the Consulate General in Boston was combined with a fellowship at the Weatherhead Center for International Affairs of Harvard University. He has been in Chicago since July 2014. Herbert Quelle is also an author and has published a book on the connection between the German harmonica and the blues. He likes to play music in his spare time.
CHARLES ROSS obtained his degree in Music Industry Studies at DSU. In 2016 he launched Charles Ross Productions. Charles is a keyboard player, engineer, and producer and has collaborated with Keith Johnson, Grady Champion, J.R Blue, J'Cnae, Kingfish, and Nathaniel Kimble.
ROBERTA FREUND SCHWARTZ, PhD is a professor of musicology at the University of Kansas. Her areas of specialization include the Renaissance and blues. Her 2007 monograph How Britain Got the Blues won the ARSC Award for Excellence. She is currently working on a book on the city blues style before 1942.
JESSIE SHORT III, guitarist and producer, is a native of Glen Allan, MS. He has performed with artists such as Eddie Cotton, J.J Thames, Grady Champion, and Keith Johnson.
JOHN STRAIT, PhD is a human geographer specializing in sociocultural, urban, & ethnic geography. His main research interests include racial & ethnic identities, urban residential dynamics, music, visual arts, religion & the spatial dimensions of socioeconomic disadvantage.
BOB SWOFFORD is a Blues scholar, researcher and retired teacher with 37 years experience. He holds a BSE from University of Central Arkansas and the M.S.E. Arkansas Tech University. A citizen of the Cherokee Nation, his research focuses on the influence of Native Americans in the Blues genre.
ZINA TARAN received her PhD in marketing from Rutgers, the State University of NJ. An author of a few dozen journal articles, conference proceedings and presentations, she is an expert on branding, market research, and quantitative methods. Her passion for teaching brought her to DSU.
J.J. THAMES' debut album, Tell You What I Know (2014 DeChamp Records), reached #1 on Billboard's Hot Singles and #3 on the Billboard's Blues Chart. Raw Sugar, Thames' follow-up album is a collection of 13 original works in collaboration with Eddie Cotton and recorded at Malaco Studios.
BRIAN Q. TORFF is a bassist, composer, author and educator. Currently he is a Professor of Music and Music Program Director at Fairfield University. He has performed at the White House, Carnegie Hall, The Hollywood Bowl, Lincoln Center, the Kennedy Center and Birdland.
KELVIN K. TOWERS serves as Music Department Chair and Director of Choral Activities at Coahoma Community College in Clarksdale, MS. He received a Master of Music degree from the University of Mississippi, where he is also currently completing a doctorate in choral music education.
TAMMY L. TURNER, DA teaches a variety of university courses including Jazz History, History and Sociology of Rock & Roll, and Music History. Her area of interest and scholarship is twentieth century American music.
ELIJAH WALD is a musician and writer. He studied with Dave Van Ronk and Jean-Bosco Mwenda, played for five years with Howard Armstrong, and has toured as a musician, journalist, and historian. His books include Escaping the Delta: Robert Johnson and the Invention of the Blues.
LYDIA WARREN is an ethnomusicologist and performer conducting fieldwork in Memphis, Tennessee. Her scholarly interest center on blues music, and she incorporates collaborative ethnography, tourism, revivals, race, and issues of mental and physical well-being in her work.
TAWANA WILLIAMS is a special education teacher at Sankofa Freedom Academy Charter School in Philadelphia, PA. She uses the history of the Civil Rights Movement as a means of developing literacy and student activism at her school. She leads students on an annual Freedom Ride to share this history.
TOM ZLABINGER earned his Ph.D. in ethnomusicology from the City University of New York and is an Assistant Professor of Music at York College in Jamaica, NY. His research interests include the portrayal of musicians in film, the pedagogy of improvisation, and psychedelic music.
PLANNING COMMITTEE
LEE AYLWARD is Program Associate for Education and Community Outreach in the Delta Center for Culture and Learning at DSU. She has a BA from Mississippi University for Women in Library Science with a minor in English, and a MS from Mississippi State University in Education.
LAURISSA BACKLIN is Assistant Professor of Music at Delta State University where she teaches studio voice, lyric diction, and song literature. She received the Doctorate of Musical Arts degree from University of North Texas.
GREGORY BRAGGS JR earned a Bachelor of Science Degree in Interdisciplinary Studies (2015) and in Entertainment Industry Studies (2016) from Delta State University. He's currently working as Delta State's university web designer and is working on his MBA in Management Information System, also from Delta State.
KELLI CARR is the Tourism Director at the Cleveland- Bolivar County Chamber of Commerce. She represents Cleveland on the Mississippi Tourism Association's Board of Directors and serves as Secretary of the Mississippi Delta Tourism Association. She is a graduate of DSU.
TIM COLBERT is Chair of the DSU Health, Physical Education, & Recreation Faculty. He holds a BS and MS from Mississippi State University.
SHELLEY COLLINS (Co-Chair) is Professor of Music at DSU, where she teaches music history, history of rock, and flute. She has been Secretary of the National Flute Association and President of the Mid-South, Seattle, and Colorado flute associations. DMA, University of Colorado; MM, Arizona State. shelleycollins.com.
CHELSEA HALL graduated from Delta State University in 2013 with a BS in Elementary Education. She is currently working as the Senior Secretary for the Division of Languages & Literature at Delta State University and pursuing a master's degree in Counseling.
ROLANDO HERTS is the Director of the Delta Center for Culture and Learning at DSU. His research includes university-community partnerships and engagement, place promotion/marketing, and community and regional development. Ph.D., Rutgers University; MA, The University of Chicago; BA, Morehouse College.
SARAH HICKS is program manager for the Mississippi Delta National Heritage Area. Former architect, dancer, app developer, she moved to the Delta for the ducks and the characters. MS-Information Sys, University of Alabama in Huntsville; MS Arch., Florida A&M University; BS Arch., Georgia Tech.
HEATHER MILLER, Director of Institutional Grants, works closely with faculty and staff in securing funding for education, research, scholarship, and service projects. She holds an MBA from Delta State University.
DON ALLAN MITCHELL (Co-Chair) is Chair of the Division of Languages & Literature and Associate Professor of English at DSU. He was host of Highway 61 on Mississippi Public Broadcasting from 2002-2005. He teaches literature, history, & culture of the Blues classes at DSU. MFA, University of Mississippi; BA, University of Virginia.
TRICIA WALKER is Director of the Delta Music Institute. As a staff writer for Word Music and PolyGram music, she had songs recorded by Faith Hill, Patty Loveless, Kathy Troccoli, and Allison Krauss, who won a GRAMMY for her version of "Looking in the Eyes of Love," co-written by Ms. Walker. www. bigfrontporch.com
SHELIA WINTERS, originally from Clarksdale, MS, received her BS in Business Administration from Lemoyne Owen College and a MBA from DSU. She worked 29 years at Coahoma Community College and currently works in the Delta Center for Culture and Learning as Program Associate for Projects.